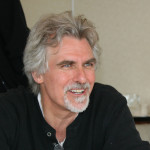 More than thirty years ago I bought my first camera with the intention of illuminating a personal writing project that combined overheard conversations with personal observations on American culture. But it was my day job as a writer with a human and civil rights organization that jump-started my life in photography.
Within six months I was photographing everything from cultural fairs to Senate hearings, and that work was being published in newspapers and magazines. A year later, I left my writing job behind to pursue photography full time. Over the years, I've worked as a photojournalist, theater photographer, and educator. But my passion for more than 20 years has been producing fine art gum bichromate photographic prints.
Photojournalism (1983-1992) – I worked for nine years in Europe, Africa, and the United States winning awards for my work and publishing in a wide variety of magazines and newspapers throughout the world.
Theater Photography (1987-present) – When I first photographed Durham's Manbites Dog Theater Company in 1987, I did so as a photojournalist working for a regional news magazine covering a new theater company's first production. A year later I became company photographer and archivist. In 2012 I collaborated with Artistic Director Jeff Storer on a retrospective book celebrating the company's 25th anniversary entitled Unleashed: 25 Years of Manbites Dog Theater. That book was published in February 2013.
Fine Art Photography (1990-present) – I discovered the world of alternative printing processes in the late 1980s by chance while doing research for Manbites Dog Theater looking at story-telling methods used by photographers over the years. For me, the world of non-silver, hands-on processes like cyanotype, Van Dycke, albumen, wet-plate, platinum, and gum bichromate photography became an unexpected discovery of that research.
Entranced by the look of hand made prints, I began experimenting in the darkroom as soon as  enough information, chemistry, and lab equipment was assembled. Over the years I have continued to explore various other processes, but the printing method that continues to captivate my attention, time, and imagination is the gum bichromate process.
Though maddeningly frustrating at times, it can also be exhilarating in its results. Every print is one of a kind, placing it appealingly outside of the world of mass-produced photographic imagery. But most of all, I like the dreamy, ethereal quality of a finished print.
In 2011, I self-published a limited edition hand-printed book entitled Place, Impermanence, Memory: Gum Bichromate Photography. The silk-covered book is hand-bound using Coptic stitching to bind together 100 full color pages of writing and gum prints providing both a written manifesto and a retrospective look at my life as a gummist.
Educator – Throughout my adult life I have served as an educator, teaching everything from cyanotype workshops for 5-year-olds, to giving university and museum lectures and workshops on the history of photography as an art form, its close relationship with both painting and technology, as well as classroom and private workshops in alternative, and especially gum bichromate photography.
Currently, I am a visiting artist in the Arts NOW Series at NC State in Raleigh, NC and I give occasional lecturers and workshops at the Ackland Art Museum and the FRANK Gallery, both in Chapel Hill, NC.